Last weekend, summer came to Vancouver. I mean that quite literally; summer lasted all of 3 days, and then took a jump straight into fall. I will
seriously
freak out if I talk about that anymore, so let's move on, shall we?
Last weekend, we had 30 degree C temps (double it, add 30 Americans) and my 2nd born had his All Star Championship games. We sat in the roasting sun for 3 days straight, with the highest UV index Vancouver has seen in a long time, we burned through 50 SPF sunscreen, we melted like we'd just high-jacked the Lost Ark, and my kid lost. Miserably.
Wanna know why I love this kid so much, and his whole team for that matter? They could not have cared less. They had a freaking
blast.
They were the underdogs, by a lot, and they improved every stinking game they played. They never got down, they always were smiling, and they just
played ball
. It was a beautiful thing to behold.
And here's the pictorial evidence:
He swung and swung and swung, with no luck, until...
Day two. Base hit. And they just kept coming after that.
Yeah, he's so cute I could die.
Um, the sun was in his face? He was tired? Or maybe he's just a goofball.
The rest of us had loads of fun, too. We ate
the most hideous barbecue ever
awesome ballpark fare, drank delicious, sugar free, low calorie healthy drinks,
Hung out on the playground,
I stared at my insanely hot husband...
And we were even graced with the presence of
a local hostage-taking terrorist
and her delicious children. We escaped to their house for lunch one day, where The Princess and 3of3 refined their Mad Heathers Skilz.
If I showed you The Princess's face, I'd have to kill you. Just sayin'.
And when the whole thing was over, we returned to the park for Closing Ceremonies.
After that, we stayed for the final championship game, to decide 1st and 2nd place, and I have to tell you; if you've never sat through an 8-9 year old championship baseball game, you're missing out. Professional Baseball ain't got nothin' on these kids. I think I held my breath for 99.63% of the game, and I don't much like baseball.
And then we hit the beach, right on the Canadian border, which is very pretty, if not the slightest bit full of sawdust. Don't ask; I couldn't explain it if I wanted to.
We chose beautiful rocks,
And then lobbed them at the ocean like it had just said Jehovah or something.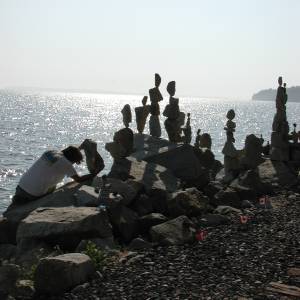 We found some freaking stoner (pun
soooo
intended), who had apparently spent all day stacking rocks on top of each other. And thanks to him, I know have a house full of rocks and two boys with an amazingly inexpensive new hobby.
We smell worse than we look.
And then we headed home, drowned ourselves in aloe, and slept like the evil undead.
And you can visit all of
Lotus' other Weekly Winners here.
But I'd
start here
. Because she can take a picture of Cheeze-It's that it so beautiful, it almost makes me believe in god again.