I leave for Denver in 10 days, and I'm struggling to pack. I'm a historically bad packer; I either bring 257 outfits too many or I bring only a wife beater and some yoga pants. I'm shooting for just a carry on bag, so I'm carefully negotiating what exactly I bring. I can live without the Keen's, I have to bring the Crocs (shut up,
Kelley
, it's Colorado. They kick you out if you don't wear them in.) I am bringing the hothothot jeans, but I'd better bring
the jeans that fit perfectly now
fat jeans, too. The cardigan comes, the hoodie stays. You get it.
I decided a few weeks ago to leave the mustache at home.
Normally, I'd do what I always do with my awesome goatee and massacre that fucker in the privacy of my bathroom. I have, however,
had mixed results with this tactic
in the past. Because I'm going home for 4 days all by myself, and because I'm hoping to look even slightly like a girl, I decided I'd get a professional wax job.
I have never been waxed before. There are a small handful of tortures I'm willing to pay for, and having tiny little baby hairs ripped out of the most sensitive spots on my body just didn't make the list. I can shave my legs, I have tweezers, and as for the rest of it? Well, I do believe that it is written somewhere in Leviticus that I am biblically obligated as a dutiful wife to make my husband's life as hard as is humanly possible, and so if he has to bring a weed wacker, a garden trowel, some flour and a Mag Light into the bedroom with him just to figure out where he's supposed to land, that's just me making him
work for it
. I'm pretty sure that means I'm getting into heaven.
Back to the wax. I decided that I'd splurge a little and get the eyebrows, the lip and the chin waxed a week before I left for Denver because god knows the trip itself isn't a splurge of
any
sorts because I'm going on OFFICIAL BLOG BUSINESS involving throwing a party for a couple hundred people who won't even know I'm in the room and it will do nothing for my traffic and no one's paying me to do it and in fact it's kind of costing me an assload of money and my kids are pissed they're not coming, but that's not a splurge.  Waxing is a splurge.  This has entailed me not plucking anything for a few weeks to get everything nice and long for the impending carnage. This is not easy for me in any way. I am a picker, a plucker, a trimmer. I tend to go too thin with my eyebrows, and after a few weeks of planned neglect, here is what I look like as of this morning: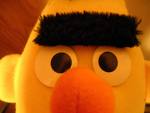 I am freaking the fuck out. But I want them to be full and even after they're waxed, so I'm letting it fly. We're not even going to talk about my upper lip right now, sufficed to say that I get to enjoy my chocolate milk longer than most of you do.
Anyway, I'm sitting on the couch the other night, kind of rubbing at my neck a little (it was hot, I was sweaty, and no, we're not getting all soft core right now) and I noticed something. There was the tiniest littlest sort of a bump.  I was all, "oh shit, do I have neck cancer?" because I
always
think I have cancer.  Like my
Cherry Angioma
that I have all over my damn body that are multiplying at at a rate that's making all the rabbits in my 'hood go, "Err?" and I know that they're genetic and unavoidable and totally harmless unless I've been exposed to mustard gas and OH SHIT HAVE I BEEN EXPOSED TO MUSTARD GAS but still I am constantly counting them and measuring them and they just laugh at me and grow, just like they do when I'm pregnant and OH SHIT AM I PREGNANT because these things only do this when I'm pregnant but since they tend to pop up in geometric shapes just like my zits do, I at least get whittle away 9 long, heavy months playing Tetris on my huge thighs, and was then I was all "Oh shit, do I have neck acne?" because yeah, like I need neck acne to go with the back zits and the chest zits and the left side of my nose zits and that one zit that I found in my cooch a few weeks ago and OH SHIT DO I HAVE GARBAGE DICK but I don't and really, people sometimes get zits in weird places just because there are pores there and I sweat like a stuck pig and people really do commonly get zits in girly places, you can google it, and SHUT UP I DON'T HAVE GARBAGE DICK but I'm pretty sure I was done with puberty when I was, like, 18, so I guess I'm just getting ready to make The Change and OH SHIT AM I MENOPAUSAL?
And then I remembered to take my damn meds already.  I kind of fiddled around with the bump for a second, and the next thing I know, I have
a wiry, gray, coarse, 1 1/2 inch long HAIR
in my fingers. There is a hair, a long ass hair, growing out of my neck. NECK. Not, like, just my lower chin; like, where my chin suddenly becomes my throat.
You. Have got. To be Motherfucking.  Kidding.  Me.
I ripped that sucker right out, but then I got all paranoid. I mean, it's not like subjecting my poor neighbors to my growing beard and my unibrow all these weeks wasn't enough, but how long have they had to look at the hair protruding from my neck? How long has no one around me been looking me in the eye because I've got an escape rope hanging out of my fat ass underchin even though I've been really good about putting on eyeshadow AND mascara every day for, like, a month that's obviously totally been wasted and I've even busted out my super hot smoky black eyeshadow and not just because I'm trying to cover up the goddamn cherry angioma that has appeared in the corner of my left eye and OH SHIT I HAVE CORNER OF MY LEFT EYE CANCER.  I started checking around the rest of my neck, and sure as hell is hot, I found another hair on the other side. It wasn't as long, and it wasn't as wiry, but it was THERE, yo. I couldn't handle it anymore. I ran up to the bathroom, and I busted out my wax.
Have you ever waxed your neck?
I think it would be a lot like waxing your nostrils. There are places you simply should not rip anything out of. I couldn't just stop at my neck, either. I HAD to do my chin, too. It's one thing to attempt to make my esthetician's job easier, but really?  Seriously?  Come on.  I can't walk around the rest of this week with a reverse landing strip on the bottom half of my face.
So, um, yeah.  Should bring the sensible, respectable dress or the red corset?  I can't decide.